WHAT DOES IT MEAN TO HAVE AN ERGONOMIC WORKSTATION?
Ergonomics can be understood as the scientific study of an environment and modifying the workplace to fit the worker with the goal of decreasing discomfort and risk of injury.
WHY IS IT IMPORTANT?
Having your workstation set-up optimally will help you to feel your best and most comfortable at work.
Risk of injury increases with:
Repetitive movements
Awkward postures e.g. Sitting not in alignment
Static postures e.g. sustaining a posture for a prolonged period of time
WHAT ARE SOME SYMPTOMS YOU MAY BE EXPERIENCING?
Without an ergonomic set-up you may be experiencing symptoms such as musculoskeletal injury (MSI) with pain in various areas of your body including neck, wrist/hand, back, shoulder, and lower extremities. You may also experience eye strain and reduced blood circulation throughout your body.
WHAT DOES IDEAL POSTURE LOOK LIKE?
Reference: WorkSafe (December 2020)
RECOMMENDATIONS
Assess the workstation: Have an Occupational Therapy ergonomic desk assessment completed.
Balance: Participating in activities away from your desk that involve movement to counterbalance sitting at a desk all day. Exercise helps ensure we are supplying our body with a healthy blood flow to our muscles and provides a change in posture.
Micro-breaks: Change your position often. Take micro-breaks approximately every 30 minutes, for a few minutes, to look away from your screen and stretch.
Holistic Approach: A combination of having good posture, a proper equipment set-up (desk, chair, monitor, keyboard, etc), and healthy workplace habits (e.g. frequent posture changes) are important to avoid injury.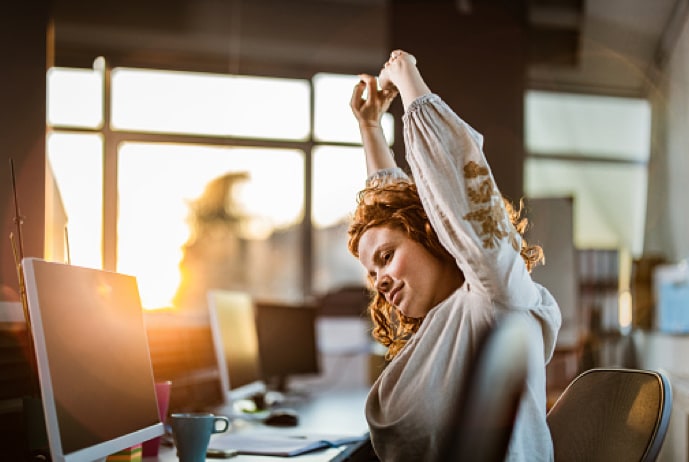 SERVICES TURNING POINT OFFERS
Mobile Outpatient Occupational Therapy (OT). Your OT will visit your workplace in person or complete an ergonomic assessment virtually to determine what recommendations can be made to make you more comfortable while at work. Some examples may include: checking your posture, adjusting the layout of your desk and work organization, making chair adjustments, recommending ergonomic equipment, checking lighting, and providing education on pacing and micro-breaks.
If an ergonomic chair is recommended, then your OT will visit a vendor with you to choose an appropriate chair, custom to you.

RESOURCES
Awareness app (IOS or Android). This app provides you with reminders to take your micro-breaks
5-Minute Office Yoga Break on YouTube
Desk Stretches 
https://www.nasa.gov/sites/default/files/atoms/files/hq_deskfit_booklet_6.10.2020.pdf